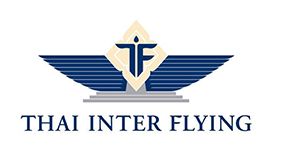 PRIVATE PILOT LICENSE COURSE (PPL)
The objective of Private Pilot Licence (PPL) Course at Thai Inter Flying, We hope to be helper and assistant train student pilot to fly the aircraft until they have skills and knowledge that able to do a solo flight by themselves and to be a good pilot in the future follow CAAT (The Civil Aviation Authority of Thailand) that is flying safely. Thai Inter Flying hopes our Private Pilot Licence (PPL) course is helpful to someone who desire and aim to find new experience of flying skills and knowledge.
Course Information
Theoretical knowledge 132 Hrs. (Vibhavadi 64, Bangkok, Thailand)

Flight Training 44 Hrs. (Phitsanulok Airport, Phitsanulok, Thailand)
Course Period
4-5 months (Depends on environment factor including abnormal situation ex. aircraft damage from accident or incident).
Qualification of Applicant:
Student Pilot will get.
JEPPESEN textbook for Private Pilot




Food during ground school at Vibhavadi 64, Bangkok, Thailand




Accommodation and foods during flight school at Phitsanulok Airport, Thailand.




Flight bag




Flight Kneeboard




etc.




Type of training aircraft
CESSNA 172

CESSNA 172 G1000
Documents required
Photo (size: 1 inch)

6 photos



Copy of ID Card with certified true copy

3 copies



Copy of House Registration with certified true copy

3 copies



Copy of Passport (foreigner) with certified true copy

3 copies



Application form (written by hand)

1 copy



Copy of Medical class 1 or 2 with certified true copy

3 copies




Contact
THAI INTER FLYING SCHOOL
10/11 Vibhavadi64, Vibhavadi-Rangsit Rd., Talat Bang Khen, Lak Si, Bangkok, Thailand

+662-1143325, +6685-3293295, +6695-6049999


thaiinterflying@hotmail.com

Thai Inter Flying


@thaiinterflying